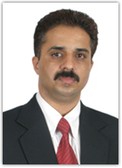 GETTING IN TOUCH
74/75, Mahendra Chambers,
2nd Floor, D.N. Road, Fort,
Mumbai(Bombay), 400001, IN
Phone: +91-22-22035072 +919820169393
sanket@ktaglobal.com
BIO
Sanket is an alumnus of National Defence Academy, Pune, and the Indian Military Academy, Dehradun. Along with his Bachelors degree in science from the Jawahar Lal Nehru University, Delhi, he has also undergone various papers and modules on people and material management, leadership, and strategy formation and execution.
After his initial years in the army wherein he was particularly involved with recruitment, training and development, he moved into the retail industry. He has worked on loss making organizations in the furnishings industry and turned them into profit centers. He has held the designation of executive director for a retail chain.
Immediately prior to his coming on board with KTA, he was associated with a retail giant and launched the first of its kind large format store in India on 'home concept' including, the launch of its new brand.
Sanket heads the Retail Practice Group at KTA.